Animal caretakers take care of animals wherever they are housed. This includes zoos, stables, aquariums, shelters, kennels, and parks. Some caretakers look after pets in people's homes, or in vets' offices.
Instructions
Take several courses in high school that are related to this position, if possible. Some suggested courses include biology and chemistry. These courses will help provide you with the foundation you'll need.
Apply to a college or university to obtain a degree in either zoology, biology, veterinary technology, or another animal-related subject. Most zoos require individuals who are working with animals to have some sort of post-secondary education. Experience with animals is often a requirement for employment; you can gain this experience through volunteering or part-time positions.
Participate in a co-op placement or internship if it is available at your college or university. With this program, you get to work alongside an animal caretaker and experience first-hand what they do. You will get to assist the animal caretaker, allowing you to get a feel for the environment. You can also put this work on your resume. You can receive on-the job training through the American Humane Society or other animal rescue organizations.
Enroll in a certification or other qualification program. The National Association or Professional Pet Sitters offers a two-stage, home-study program for those who want to become a pet care professional. Topics range from business management to animal care and animal health issues. The Pet Care Services Association offers a three-stage at-home study program for individuals who want to learn pet care. Levels I and II focus on animal care and customer service, and Level lll focuses on the pet care business.
Apply for the animal caretaker job of your choice — whether in a kennel, a veterinarian office or a stable. If you're applying for an entry-level position, such as in a kennel, a high school diploma and experience with animals may be sufficient. If you have post-secondary training or a degree, ask your teachers if they can recommend you for jobs suitable to your skills — for example, with a small-animal vet or a zoo. Also use your volunteer or internship experience as a pathway to regular employment. For example, ask the internship supervisor if she can hire you as a regular employee or recommend you for other jobs.
Like all businesses, the veterinary industry is classified by the North American Industry Classification System (NAICS, pronounced "nakes"). This system was established by the U.S., Canadian and Mexican governments as a consistent coding system for economic analysis by business, researchers, academia, government and the general public. NAICS replaced the Standard Industrial Code (SIC) system in 1997. The NAICS classifies veterinarians as part of the veterinary services industry.
NAICS Code
The NAICS code for the type of industry veterinarians belong to is 541940. The industry is defined by NAICS as "licensed veterinary practitioners primarily engaged in the practice of veterinary medicine, dentistry or surgery for animals; and establishments primarily engaged in providing testing services for licensed veterinary practitioners."
Code Breakdown
The first two digits of the NAICS industry classification code, 54, classify the veterinary industry as part of Professional, Scientific, and Technical Services. The next two digits (5419) subclassify that category into Other Professional, Scientific, and Technical Services. Adding the final two digits (541940) completes the type of industry that veterinarians belong to: Veterinary Services.
What Is Included
The 541940 Veterinary Services classification includes animal hospitals, surgery, laboratory services, disease testing and laboratories for pets, livestock and zoo animals.
What Is Not Included
Animal-related services not included as part of the Veterinary Services industry 541940 include veterinary research and development services, animal boarding, pet grooming, animal breeding and pet transportation.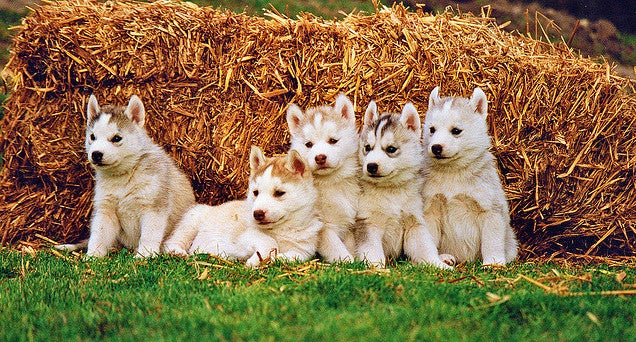 A pet breeding business, if run successfully, can be a rewarding enterprise both financially and personally. Whether you want to breed cats, dogs or iguanas, there are strict regulations for all commercial breeding. To open a business for breeding pets, you not only need a solid business plan and adequate finances, you need to make sure you are following all legal requirements.
Instructions
Decide on what animal you would like to breed. The most common animals kept as pets in the United States are fish, cats and dogs. If you don't already have some background with a specific animal and species, consider both personal preferences and consumer demand in your area.

The American Kennel Club, the organization that maintains the largest registry of purebred dogs in the world, lists the top three most popular breeds as Labrador retriever, Yorkshire terrier and German shepherd. The most popular type of cats are Persian, Maine coon and Siamese. The most popular type of fish are goldfish, but there are wide variety of fresh and saltwater tropical species.

Other types of pet animals that are bred include rabbits, iguanas, snakes, birds and many other less popular species.

Determine breeding regulations. The regulations are different depending if you are breeding at the wholesale level or are breeding to sell to individual pet owners. Facilities that breed and sell animals at the wholesale level are inspected by the U.S. Department of Agriculture's (USDA) Animal Care program under the Animal Welfare Act (AWA). You must apply for an AWA license from the USDA's Animal and Plant Health Inspection Service (APHIS). You need to pass a complete, pre-licensing inspection of the prospective animal facility to make sure you are in compliance with all the regulations. If you pass, you will be mailed the appropriate paperwork to complete and submit. A license will then be mailed to you so you can begin operations.

If you plan to breed animals just to sell to individual owners, your individual state has the authority to govern breeding regulations. Local governments might also have their own laws. To determine what laws apply to you, consult the governmental divisions that cover animal welfare for your state, city and county.

Specialize your business. Unless you have a multitude of experience in working in the animal breeding business, you will need to develop a name for yourself. Consider specializing in a specific breed of animal, whether that is British bulldogs or African cichlid fish. Check out the list of breeders in your area to determine the level of competition. Consider if the animal is a popular pet or one that is valued because it is highly expensive and rare. Ask around at local pet stores about what is selling and what customers are talking about buying.
Develop a business plan. Apart from all the normal elements of a business plan, there are specific things you should consider for a pet breeding business. These things include cost of animal care, specific insurance needs and costs to add additional animal storage facilities. Consult with other breeders to see how long it generally takes to get off the ground and get your name recognized as a trusted breeder. Consider the fluctuations in the popularity of specific species. A pet that is all the rage one year might be undesirable the next. Take that into account when considering the variety of species you plan to breed.

A good business plan can be created with help from the Small Business Administration's (SBA) website, the proper software and a business plan writer.

Do all the necessary paperwork. Apart from the animal regulations mentioned above, you will need to register your business name, obtain all necessary state and local permits and obtain a tax ID. Business.gov provides a guide that will walk you through all the tasks that need to be completed according to your state and city requirements.
Get the financing. If you need a loan, check with your local bank to see if you can obtain a small business loan. See if you qualify for one of SBA's loan programs and check to see if there are any available grants available you might qualify for.
It doesn't take a scientist to know that pets make humans feel good; anyone who's ever stroked a dog's fur or felt a cat's thrumming purr knows this. Science can, however, tell us how and why pets can be therapeutic. Just 15 minutes bonding with an animal sets off a chemical chain reaction in the brain, lowering levels of the fight-or-flight hormone cortisol and increasing production of the feel-good hormone serotonin. The result: heart rate, blood pressure and stress levels immediately drop. Over the long term, pet and human interactions can lower cholesterol levels, fight depression and may even help protect against heart disease and stroke. This is why pets for the elderly can be so beneficial.
PET CARE & SENIOR LIVING
One of the biggest concerns of allowing seniors to bring their beloved pets to assisted living communities is that the program needs to ensure the pets' well-being. Duvall, Washington veterinarian, Dr. Kevin Sievers, comments on the importance of the pets' needs: "Humans benefit greatly from the companionship of a pet. An animal in the life of a senior can give them new meaning and improve their well-being, so it is important for seniors to have a pet in their living environment. I also think it's very important to remember the health needs of the pets. Seniors can forget to properly medicate or even feed their pets. Senior living communities need to be able to help their residents care for their pets to ensure the health and happiness of both the seniors and their pets." So the key to an overall healthy relationship for both the senior and the pet is to have a pet friendly assisted living community that can ensure proper care for the pet, if the owner is not capable.
Fortunately, many senior living communities are on board with this service and even have a Pet Care Coordinator at their communities to help make sure all the pets are well cared for and are up-to-date on vaccines and veterinary care. This ensures the pets are groomed, fed, walked and happy when they otherwise wouldn't be if the senior is not able to perform these responsibilities.
PET THERAPY'S AMAZING IMPACT ON QUALITY OF LIFE
For seniors, the benefits of a furry companion can be life-changing. Walking a dog is great cardiovascular exercise, but just the simple act of caring for a pet-petting, brushing, feeding-provides both mild activity and a means to stay engaged with the world. Pets can make the elderly feel needed, and that feeling can translate into a greater sense of purpose and self-worth. During what can be a lonely time of life, the unconditional love of a cherished dog or cat can be a bridge to more socialization with others, lowered stress, mental stimulation and a renewed interest in life.
In the past, a move to a nursing home or retirement community meant giving up this important bond with the animal world. While many retirement communities, assisted living facilities and nursing homes still don't allow pets, it's great that many of these assisted living communities have decided to integrate pets into their communities, as the pet therapy benefits to the elderly is overwhelming.
"We don't just let them in," says Steve Winner, co-founder of Silverado Senior Living with a chuckle, "we require them. Pets are an integral part of what we do." From the start, Silverado has embraced the power of pets and pet therapy for the elderly to make happier lives for those affected by dementia.
Assisted living communities in the Silverado network not only have dogs, cats and fish on site, but also miniature horses, llamas, chinchillas, and even baby kangaroos. "We ask senior residents to help us care for them," says Winner. "The responsibility of caring for other living beings builds self-esteem."
Pets are not only beneficial to their owners, but have also proven to have positive effects on other senior residents at assisted living facilities. "Sometimes new residents can be withdrawn and not very communicative, and it's the first interaction with an animal that draws them out," says Winner. "They're pulled out of their shell by the pets."
PET THERAPY'S IMPACT ON SUNDOWNERS SYNDROME & DEMENTIA
Pet therapy for the elderly has also proven to be a powerful tool for what's known as "Sundowners Syndrome" evening periods of increased agitation and confusion in those with Alzheimer's. Animals' non-verbal communication and profound acceptance can be soothing for those with difficulty using language; some may even connect with memories of their own treasured pets.
The San Diego Humane Society's Pet-Assisted Therapy Program has noticed how even the most profoundly affected patients have displayed improved appetite, more social interaction and tactile and cognitive stimulation after interactions with pets. "Animals provide unconditional love and emotional support in a way that is unparalleled. Our Pet-Assisted Therapy program brings the joys of animals to people who are otherwise unable to have an animal in their life, such as those living in facilities such as convalescent homes, hospitals, mental health centers, children's homes and juvenile detention centers," says Judith Eisenberg, Pet-Assisted Therapy Coordinator for the San Diego Humane Society. "What an animal can give and teach is a powerful source of healing and personal connection." In this way, pet therapy is an excellent way to provide an extra dimension of happiness to senior citizens.
We encourage you to contact communities individually to learn about their pet policy and find out if there are weight or breed restrictions as well as community pet care programs.
To become a pet sitter, you need to love animals. Pet sitting can be rewarding if the pets are happy. Pet sitters usually stay in the home or visit during assigned periods throughout the day. Some pets will be more demanding; learning more about different types of pets is important. Taking a few steps towards becoming a pet sitter is easy to do as long as you know everything about the animal in your care.
Instructions
Obtain insurance. Pet sitters need to have insurance to cover themselves from any mishaps that may happen while the animal is in their care. The insurance will require that the pet sitter is bonded if they do in-house sitting. Some states and communities do require a license, but this is more for small businesses that have employees.
Spend time at an animal shelter to learn about the different pets people might have to care for. More experience with different types of animals will help. Only pet sit for animals that are easy to care for and not ones that will require more of your attention than you have available.
Hand out business cards to people at vet offices and dog parks to find business. Spread the word through postings at grocery stores and pet stores.
Nurture your love of animals. Becoming a pet sitter means having a love for all animals. Not all animals are going to be friendly and special precautions may be needed before taking care of the animals.
Talk to potential client while the pets are in the room. The more information about the pets a person has will allow the pet sitter to care for them properly. Make a checklist of everything the owner says about the pet and follow the owner's directions.